Hamilton Visitor
testimonialHamilton Visitor gives you the opportunity to create a strong first impression with your visitors. Thanks to its intuitive interface and extensive functionality, you benefit from powerful visitor management software that enhances your brand image through a seamless, modern visitor experience.

Streamline Visitor Sign-In
To effectively support you in your strategy to fight the transmission of the virus within your buildings, we have developed a contactless reception application on iPad. Now your visitors no longer need to touch the tablet when checking in or out..

Secure Your Building
Control visitor access to your sites in real time and always know who is on site at any time. Deliver selective access to your visitors based on their needs and your safety and security policy.

Upgrade Your Front Desk
Your front desk is the first point of contact for your brand and visitors. Impress visitors with a simple yet powerful visitor management tool and get rid of the visitor signing in book.

Understand Your Reception
Understand how your reception resources are getting utilised. Put more resources where it is really required. Smart reporting will help your facility team identify resource constraints before they happen.

Always the right tool for you.
Not sure what solution is right for you?
Contact us for more information.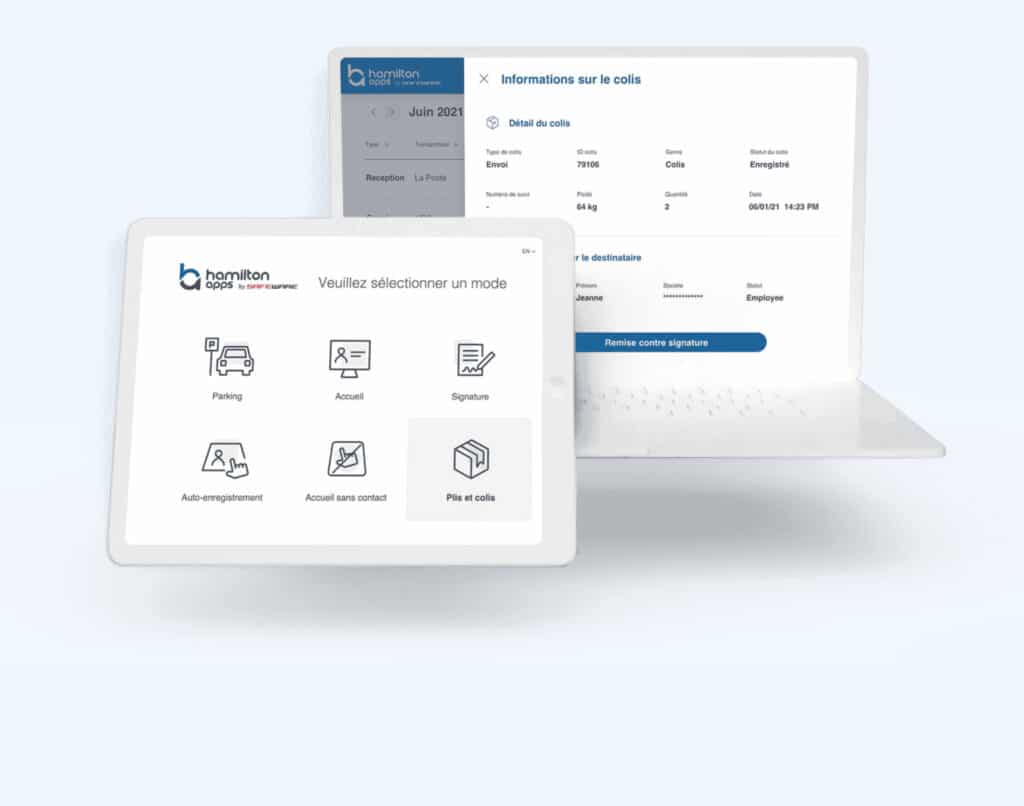 Top Features

Pre-register Visitors
Pre-register your visitors for a smooth onboarding experience. Your reception team will be aware of the VIPs and authorized guests' visits in advance. AD Integration makes pre-registration easy for all residents.

Invitations & Reminders
Send your visitors a personalized invitation email with a map and any other important informations. Send your security guide before the guest's arrival

Easy badge printing
Use any kind of badge and any printer to print badges directly from the dashboard. Promote your brand by displaying your logo, colours and design on the badge. Moreover, you can customise badges for special events.

Smart Reports
Export visitor logs with just one click and create detailed reports compiling data of visitors' in and out time. Use smart analytics features to create compliance reports.

Total security
Integrate with access control systems for improved onsite security. Implement your pre-approved rules for restricted areas or sites. Manage several types and categories of visitors

Multiple Locations & Languages
Our solution is scalable. Manage one office or multiple offices across the globe with our solution.

Order Services
Book a taxi for your visitor's pick-up and drop-off. Order additional resources as per the needs of your visitors.

Parcels
Record deliveries of parcels and letters and notify recipients with an email. Get delivery confirmation signed digitally using a signature pad.
"Hamilton Visitor software has been very efficient and it makes the end user experience much easier."