Hamilton Visitor
Visitor management software
With Hamilton Visitor visitor management software, you can offer a modern, seamless experience to all your company's visitors and employees.
Hamilton Visitor gives you the opportunity to create a pleasant first impression with every visitor. Thanks to its intuitive interface and extensive functionality, you benefit from powerful visitor management software that enhances your brand image.
The benefits of Hamilton Visitor, your visitor management software
Hamilton Visitor is a guest management software that optimizes your company's hospitality. With this application, keep control of the flow of people in and out, and keep an eye on guest management.
Whether you're looking for a seamless welcome, site security or employee directory management, you need to modernize your reception area right away and offer every visitor a genuine experience.

Touch-free reception with your Hamilton Visitor software
To effectively support you in your strategy to fight the transmission of the virus within your buildings, we have developed a contactless reception application on iPad. Now your visitors no longer need to touch the tablet when checking in or out..

Secure your sites with high-performance software
Control access to your sites in real time and keep an eye on the visitors present. With your visitor management software, grant selective access to your guests according to their needs and your safety and security policy.

Modernize your reception and improve your guest experience
Get rid of paper and complex software with our visitor management software. Modernize your reception by offering your visitors an unforgettable experience that will enhance your company's image.

Optimize your reception resources
Thanks to an intuitive, easy-to-use interface, your management software optimizes your resources and data. Dashboards enable you to identify workloads in advance, so you can adapt the organization of your reception teams and keep control of incoming and outgoing flows.

Always the right tool for you.
Not sure what solution is right for you?
Contact us for more information.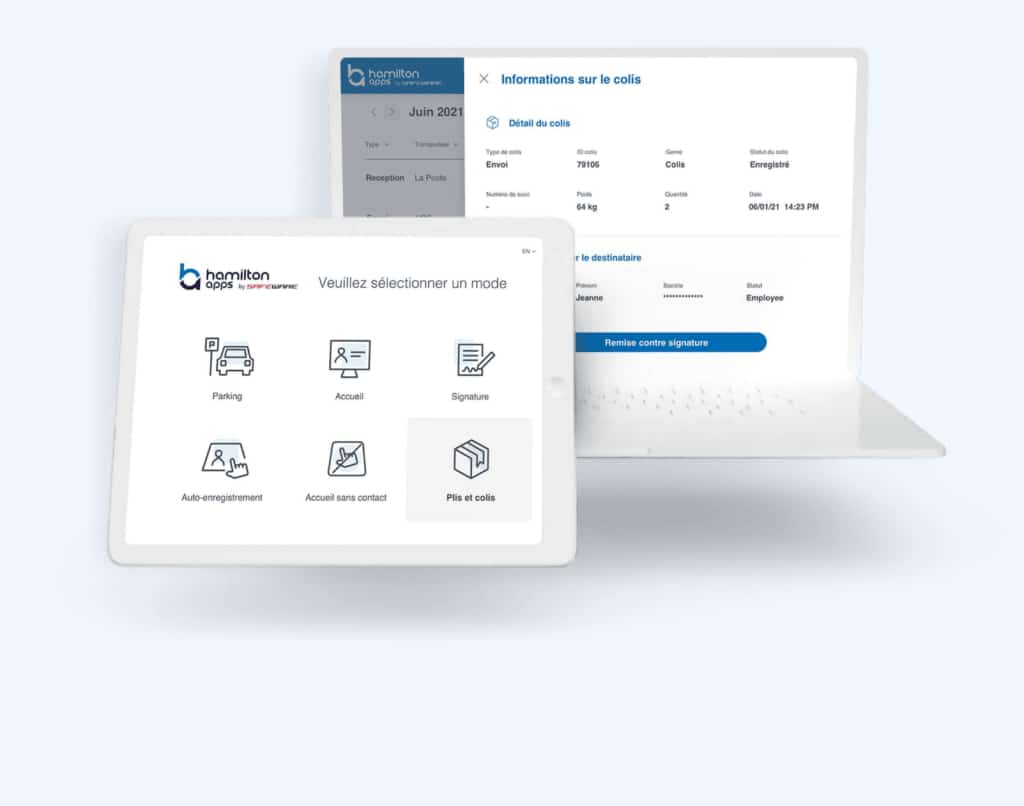 Features of your visitor management software
Different packages for your Hamilton visitor management software
Aware of the importance of software to manage your computerized reception, Hamilton Visitor offers several packages at different prices depending on your needs:
Starter: with this package, you get management software at an introductory price and benefit from some of our features;
Premium: in addition to the features of the standard package, you get other benefits for an attractive price;
Enterprise: the optimal, customizable package, with all the features you need for an ideal visitor experience. Keep control of your reception thanks to our full range of functions to deliver comfort and fluidity to your visitors and employees.
"Hamilton Visitor software has been very efficient and it makes the end user experience much easier."