Hamilton Workplace
Hamilton Workplace lets you manage your workspace seamlessly. The product allows you to optimize the operation of your buildings while offering your employees a modern tool that helps in improved collaboration and boosting performance.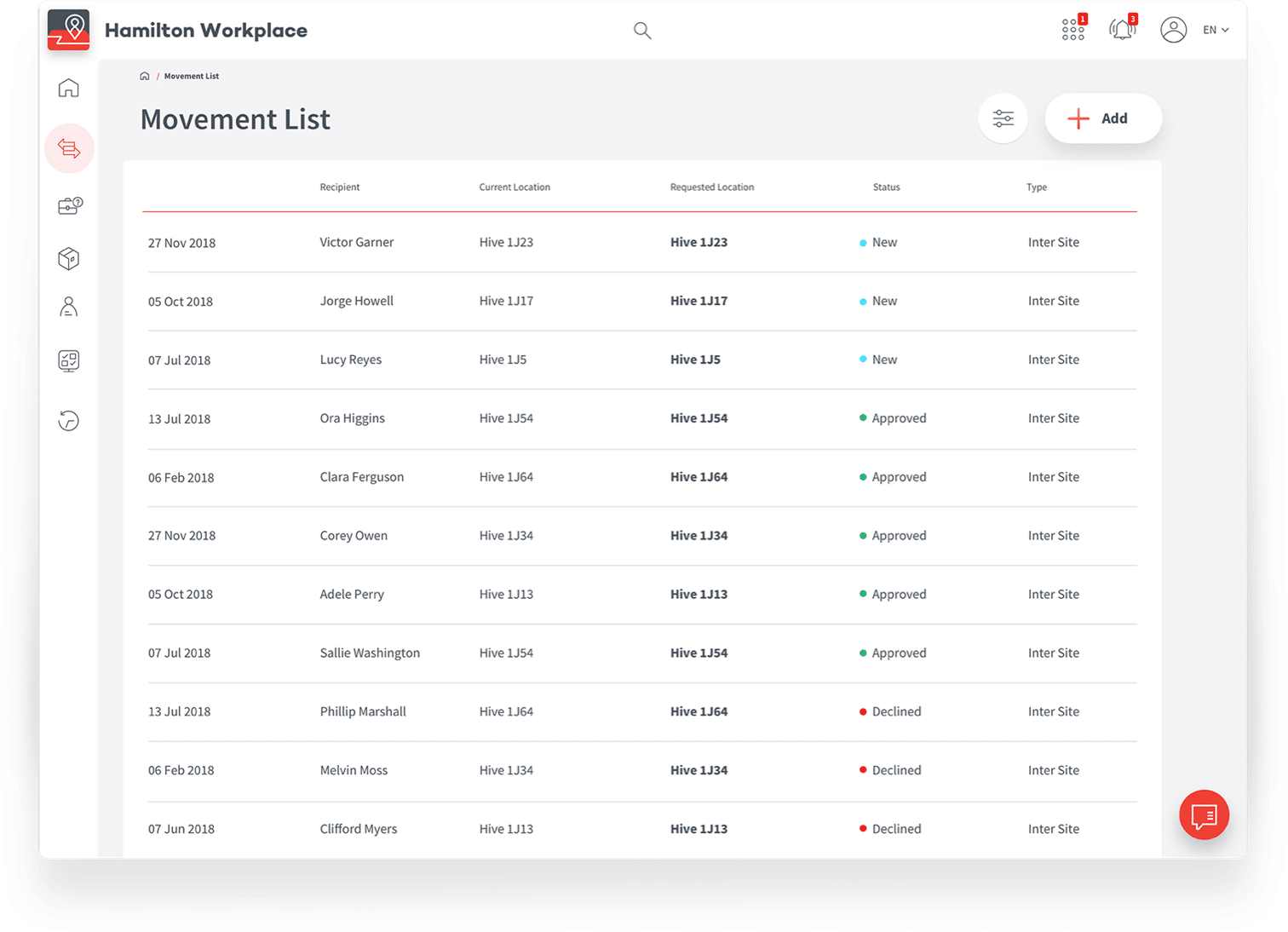 Manage Work Space
Efficiently manage your desk move requests, meeting room booking and other workspace needs. The product integrates with our extensive range of workplace applications to give you a 100% digital experience.
Locate Colleagues
Use the easy-to-use navigation feature to find your colleagues location across the building or on the floor. At a glance have other important information such as the nearest coffee machine or first-aid box.
Manage Legal Compliance
Get rid of paper and complex processes while meeting your regulatory requirements. Hamilton Workplace provides full audit and tracking of employee rights and certifications.
Instant Workspace Booking
Save time by instantly booking a meeting room or a hot desk by using the interactive workplace map. The colour code will help you identify free rooms and desks at a glance.

Always the right tool for you.
Not sure what solution is right for you?
Contact us for more information.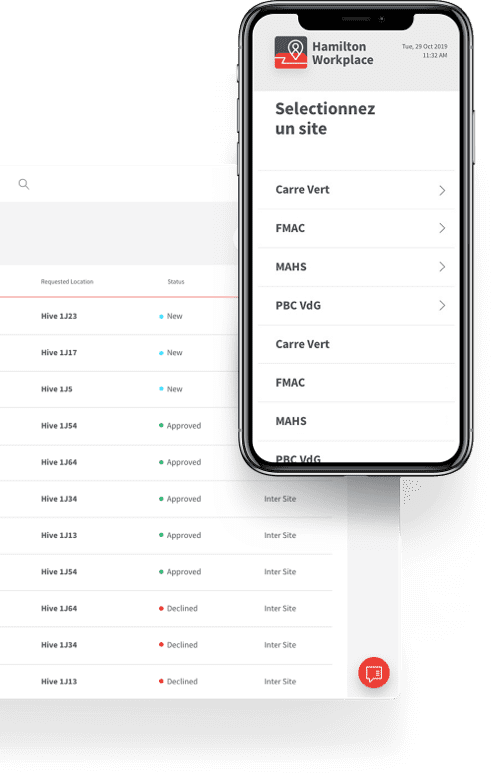 Top Features
Manage Staff & Locations
Visualize all workstations and information attached directly from your building maps. Include all the useful data: business unites, cost center, hierarchical link, photo, e-mail and telephone. Every resident can consult his data and correct them if needed.
Advanced search
Hamilton Workplace embarks a powerful multicriteria search tool. You want to know all the residents of a space having a particular authorization? You locate them immediately on the map and you can export the list in a click.
Manage Movements
Thanks to the movement request function, your collaborators visualize their future workstation and inform the competent departments: Space Planning, Cost Control, removal men. The tool adapts itself to your workflows and validation rules to offer to your residents a seamless experience.
Safety Compliance
Hamilton Workplace assures you the respect the legal safety standards to which you are subjected. From collaborators authorizations to subcontractors plans of prevention, you check the validity dates and the associated legal documents. The system alerts you in case of anomaly.
Manage Real Estate Cost
The application allows you to know the cost center attached to every space and to operate a precise rent invoicing. You can easily identify overcapacity or real estate sub-capacities and optimize your workspaces accordingly.
Flexibility
Manage your workspaces in Flex Office thanks to Hamilton Workplace. Its graphical interface and its easy handling offer to your collaborators a serene and fluid experience. They can check real time availability, enjoy services wherever they are and organize their work according to their needs.
Smart Reports
Export all data in a click and create detailed reports in few minutes only. Understand the use of your workspaces and identify opportunities for savings.
Multiple Locations & Languages
Our solution is scalable. Manage one office or multiple offices across the globe with our solution.
"We have developed Hamiton Workplace keeping in mind the requirements of your workforce and those involved in managing a smart building. The product centralises all the information related to people and locations, allowing you to better manage your resources."