Hamilton Deskbooking
Flex office management software
Hybrid working combines on-site presence and home office. Hamilton Desbooking is a flex office management and booking software for organizing your employees' office presence.
With its simple, intuitive interface, the software is a high-performance, all-in-one tool for easy office reservation.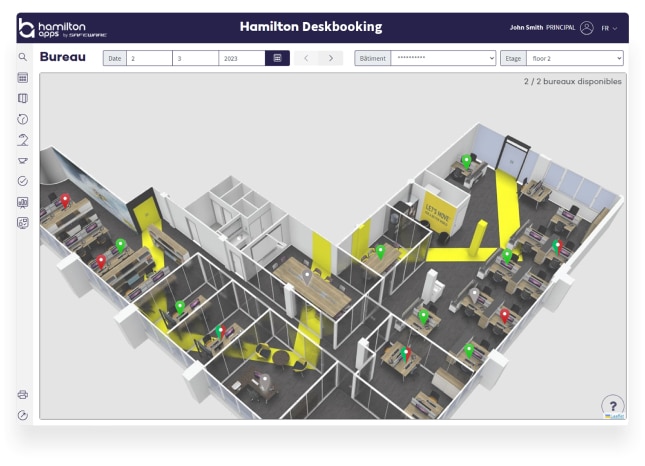 High-performance, customized flex office management software
Thanks to our all-in-one flex office management and reservation software, you have an intuitive interface with reporting to keep an eye and a global vision on your offices. The organization of your offices will be optimized, with your employees quickly requesting reservations based on availability. Managing telecommuting and company presence is an important element in the health of your business. Our management tool helps you to organize your work in a relaxed way.

Book your offices in real time, wherever you are
Booking your office space just got easier. Deskbooking is a software application built using SaaS technology. You can book your workspace at any time and from any location. Thanks to simple color coding, you can quickly spot occupied offices so you can organize your workspace to suit your needs.

Improve efficiency and conviviality at work
Thanks to Deskbooking's features, you can book an office close to your colleagues. Encourage collaborative working for the success of your projects. The booking software offers a flex office system, so you can change offices as you wish. Hamilton Deskbooking makes working easier than ever.

Manage office occupancy and optimize space
Improve your workplace occupancy rate with flex-office management. Save time and money with our office reservation software. Hamilton Deskbooking is the essential tool for optimizing your business management.

Make hybrid work easy to manage
With Deskbooking, you have excellent visibility of your business and can easily identify your on-site and telecommuting teams. Telecommuting is easy to manage. With an intuitive interface, managing your offices becomes both quick and easy.

Always the right tool for you.
Not sure what solution is right for you?
Contact us for more information.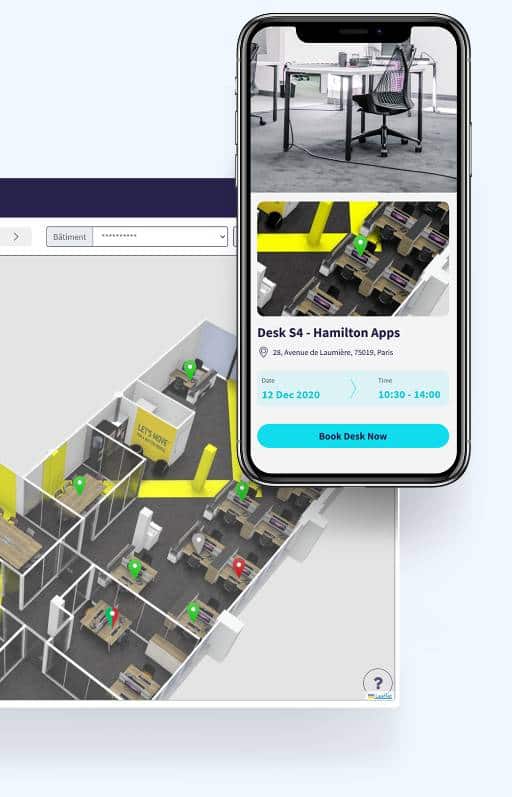 Your flex office management software features
"The problem faced by companies is to optimize the space used, because today we no longer produce a workplace for one employee but for two and even more".